Tangential Tuesday #68
Posture progress, anti-fragility, the hut master
Hi team. It's cliche to say at this point, but the past week has felt like a month.
We are officially in a global pandemic. I'm writing this on Sunday night, and I wouldn't be at all surprised if there are major developments between now and when you receive this email.
It feels like we are just waiting for a hurricane to hit that we know is coming. Except that the hurricane is hitting the entire world.
A few thoughts:
Avoid the news when possible. We already know this is going to be bad. Knowing exactly how bad is not going to help anything. Hunker down, avoid people, control what you can control and don't worry about the rest. News is not what anyone needs at this point and it is just going to make it harder to think clearly.

Take care of yourself. self-quarantine is not an excuse to eat poorly and not exercise. These things are important for your health and immunity.

Journal. We are in fairly uncharted waters. You will probably have thoughts and feelings and stories than you want to remember in 20 years.

Find the upside. It's only just starting to sink in for me how rough these next few months are going to be. People I know will lose their jobs. There is a high chance someone you know will get sick. This is not a reason for panic, but it is a reason to find moments of joy every day. Video friends and family you love. Take up a new hobby (baking bread anyone?!?). Take this influx of change and uncertainty to reevaluate how you want to spend your time.
---
My version of quarantine is working from Tahoe. All the ski resorts in the area are closed due to Covid-19. Luckily, the backcountry was still open 😉.
On Saturday - my friend Sam and I lapped Rubicon peak. It is easily the best day I've had touring on my splitboard. It was snowing all day, blower powder, totaling approximately 12 inches by the time we were done. We ended up clocking 6k of vertical feet on the day. A much bigger tour than I had originally planned on…
We woke up today to over 3 feet of snow from Saturday —> Sunday morning.
Note: As I write this, it is still snowing. We will probably end up with 4-5 feet from the storm in total.
Avalanche conditions were high, roads were treacherous, but we still attempted to get outside on some low angle technique. What we didn't quite appreciate was what it feels like to break trail in 4 feet of fresh snow. It took us about 2.5 hours to go less than 2 miles. The actual skiing done was minimal, but it was a fun day I'll certainly remember (remember that time all the ski resorts shut down because of a deadly virus AND it snowed 4 feet?)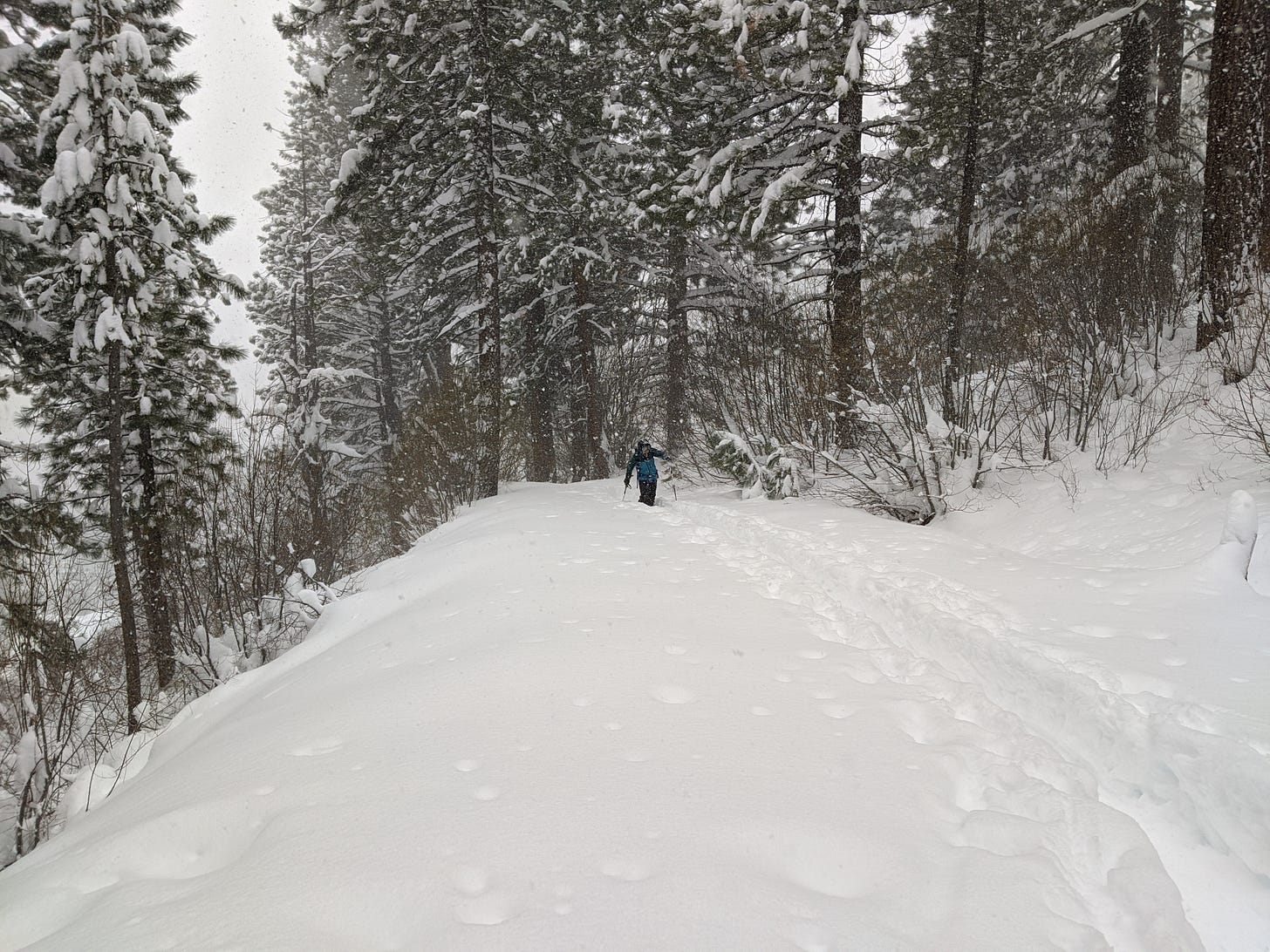 ---
The Hut Master
The AMC huts in New Hampshire are quite possibly my favorite place on this planet. This video does a good job of capturing how special it is to have the privilege of working in the white mountains.
---
Posture progress
Over the past 4 months, I calculated that I have invested roughly 106 hours of my life doing corrective exercises to better my posture. That's almost an hour every. single. day.
Beyond that, I have spent 1000s of $$ on physical therapy, and way too many hours researching pillows and weird pieces of foam that resemble a giant block of cheese.
I'm not done, but I just got my progress x-rays back and I have made real progress (!!!)
Unfortunately, I don't have the new x-rays to share (yet) but I reduced my forward head tilt by about 5 degrees (about half-way to healthy). Undoing a substantial amount of years of bad posture in 4 months is a huge win for me.
I am committing to 3 more months of working extremely hard on fixing my back issues. Hopefully, I will have another good update then and can finally go back to a more normal life. As always, massive shoutout to the team at Postureworks. Lucky to have them by my side as a navigated by far the gnarliest issue of my life.
---
Antifragility
You are in the post office about to send a gift, a package full of champagne glasses, to a cousin in Central Siberia. As the package can be damaged during transportation, you would stamp "fragile", "breakable", or "handle with care" on it (in red). Now what is the exact opposite of such situation, the exact opposite of "fragile"?


Almost all people answer that the opposite of "fragile" is "robust," "resilient," "solid," or something of the sort. But the resilient, robust (and company) are items that neither break nor improve, so you would not need to write anything on them – have you ever seen a package with "robust" in thick green letters stamped on it?


Logically, the exact opposite of a fragile parcel would be a package on which one has written "please mishandle" or "please handle carelessly." Its contents would not just be unbreakable, but would benefit from shocks and a wide array of trauma.
Another gem from Alex Danco. Think hard about how you can remain anti-fragile in this time of disorder. Luckily, humans are naturally anti-fragile.
---
Stay safe out there. Wash your hands. Call me or send an email if you get bored :)
- Tay